Bundor Valve has successfully passed the API-6D certification and API-609 certification issued by the American Petroleum Institute (API). This is another upgrade of Bundor Valve's qualification certification!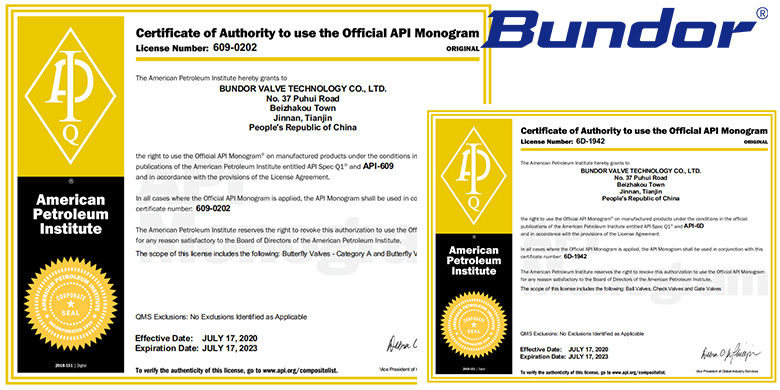 In order to achieve more in-depth cooperation with the majority of new and old customers, and to further meet the increasing needs of customers, Bundor Valve has been constantly striving to improve product quality and production R & D strength, and strive to provide customers with better products and services. We are looking forward to cooperating with all customers to achieve a win-win situation!

API certification
API is the abbreviation of American Petroleum Institute. API was established in 1919. It is the first national-level business association in the United States and one of the earliest and most successful standard-setting chambers in the world.

According to the characteristics and the needs of the industry, the organization formulated the API specification in 1924, and provided technical specification guidance for the production of related products in the petroleum industry. Due to its advanced nature, versatility, safety and the continuous expansion of the influence of the US petroleum industry in the world, the API specifications have been widely adopted by countries all over the world. Therefore, the API organization has evolved from an academic organization in the US petroleum industry in the original sense to an authoritative academic organization in the petroleum industry that crosses national boundaries.