Globe valve is a kind of forced sealing valve, which is a kind of cut-off valve. According to the connection method, it is divided into three types: flange connection, screw connection and welding connection. The flow direction of the globe valve is generally from top to bottom, so it has directionality during installation.

This type of globe valve is very suitable for cut-off or regulation and throttling. Because of the relatively short opening or closing stroke of the valve stem, the very reliable cut-off function, and the change of the valve seat port is proportional to the stroke of the valve disc, it is very suitable for the flow regulation.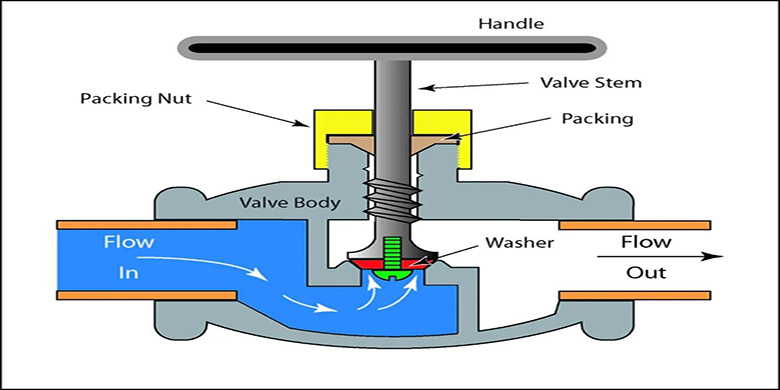 The globe valve is designed to be low in and high out, the purpose is to make the flow resistance small and save effort when opening the valve. When the valve is closed, the gasket between the valve shell and the valve cover and the packing around the valve stem are not stressed, so that they will not be exposed to medium pressure and temperature for a long time, which can extend the service life and reduce the chance of leakage. In addition, the packing can be replaced or added when the valve is closed, which is convenient for maintenance.

Many people think that all of the globe valve is low in and high out, but it is not. In general, the globe valve is low in and high out, but there are some special cases where the globe valve is high in and low out:
1. High-pressure globe valve with a diameter greater than 100mm.
2. Two globe valves connected in series on the bypass pipeline, the second globe valve requires "high in and low out".
3. Boiler exhaust and venting globe valves.
4. Solenoid quick-break valve.
Generally, it is difficult to close the valve when using low inlet and high outlet under large diameter and high pressure. If low inlet and high outlet are used under high pressure and large diameter, the valve stem is easily deformed and bent by water pressure for a long time, which affects the safety and sealing of the valve. If the high inlet and low out is selected, the diameter of the stem can be smaller, which will save costs for manufacturers and users.