Heart-warming Mid-Autumn Festival: Bundor Valve Representatives Visited the Poor Households of Sishang Village on a Rainy Day
On September 19, 2018, Bundor Valve, the president of Zhengzhou Chamber of Commerce in Luoyang City, together with other representatives of the Chamber of Commerce, went to Jiankou Town in Luoning County to visit the villagers of Sishang Village on the autumn rainy day, sending them the Mid-Autumn Festival blessings.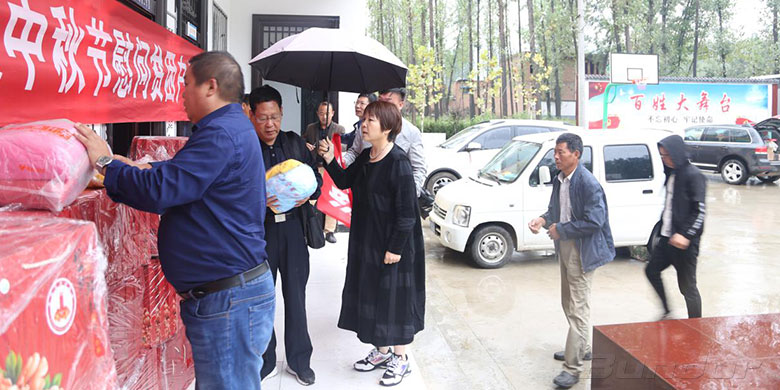 Located in the south of Jiankou Town, Luoning County, 3 kilometers from Jiankou Government, Sishang Village in Luoning County is the assistant target of Luoyang municipal commercial and industrial association. It has 12 villagers' groups, totaling 1 872 households, covering an area of 1,550 mu, with 62 Impoverished people from 29 households. In 2018, we plan to realize the poverty alleviation goal - lifting 15 families and 43 people out of poverty, maintaining the poverty rate under 1.1%. There are 28 party members and sound party committee teams in the village.
The Mid Autumn Festival is coming, members of Zhengzhou chamber of Commerce in Luoyang are taking much thought for the villagers in Sishang village. In order to help Sishang village tackle difficult tasks in the battle against poverty and achieve overall poverty alleviation as soon as possible, Zhengzhou Chamber of Commerce called on members to send blessings and moon cakes to the villagers on the occasion of the Mid-Autumn Festival.
As the president of Zhengzhou Chamber of Commerce in Luoyang,Bundor Valve responded positively to the call of the chamber of Commerce and took the lead in donating money and materials. In just a few days, we raised nearly 10,000 yuan in donations and many new clothes. The representatives of the Chamber of Commerce sent moon cakes and clothes to the villagers of Sishang village in person and expressed their cordial condolences and wished everyone a happy Mid-Autumn Festival
The Sishangcun Branch Committee warmly greeted the representatives of the Chamber of Commerce and awarded the " Contribution Award for Poverty Alleviation" to the companies present. They thanked the Chamber of Commerce for its efforts and contributions in helping to alleviate poverty. Representatives of the chamber of Commerce learned about their living conditions and the progress in poverty alleviation.
During the volunteer project of poverty alleviation, the Zhengzhou Chamber of Commerce in Luoyang sent nearly ten thousand yuan worth of moon cakes and clothes to the village, relaying love and warmth to the villagers.
In promoting public welfare, Bundor has always been on the way. Being enthusiastic about public welfare, Bundor was awarded the honorary titles of "2017 Advanced Public Assistance Corporation on Public Welfare Day", "Model Enterprise of Social Poverty Alleviation", "Ardent in Poverty Alleviation and the Development of Homeland ", "Sunshine Student Aid Enterprise". Through, Bundor deeply felt the tremendous power of commonweal undertakings through active participation of a series of public welfare activities, and would call on more people and enterprises to join in and contribute to the cause of public welfare.