Today is February 7th, the first day of our company's participation in the Turkish exhibition.During the exhibition yesterday,we turned the venue back and found that we were the only Chinese exhibitor. The pride in our hearts came into being spontaneously and with more confidence.We arrived at the booth early today, and after two days of light rain, looking at the clear sky, we could not help but feel happy. Perhaps because of the serious traffic jam in Istanbul, we finally got our first wave of customers at 10:30.
When many customers saw the Chinese elemental red lanterns hanging on our booth, as well as the sample of the carpenter's lamp that we brought, full of praise, and say we are very creative, especially the lamp, which they had never seen before.They said I didn't expect desk lamp also can do it this way, they all take out mobile phone photos, at that time, our small booth is almost the most lively booths.One of the most impressive clients is Mr. Ridha, a client from Tunisia, says Ridha.The company has always bought the valves from Turkey, so we will come to this exhibition. I didn't expect to meet your Chinese manufacturers here.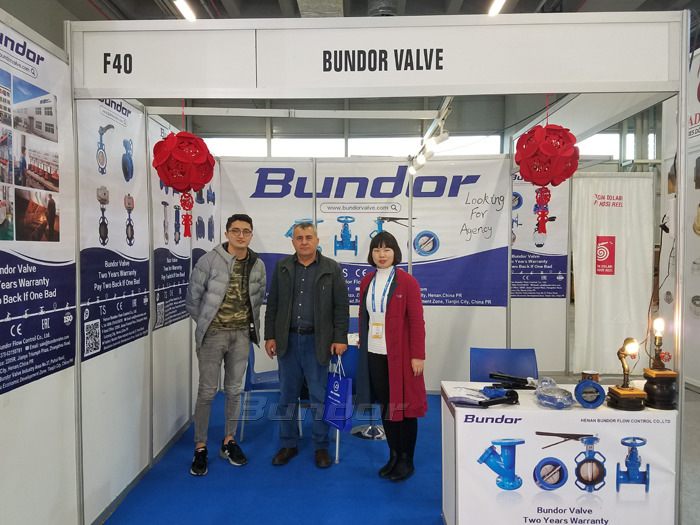 After talking to the customer, the customer clearly expressed interest in being a Bundor agent, the customer said that Bundor valve packing, each attached to the valve and small ruler, inspection report, certification, especially the policy that if one bad, two years warranty,pay two back,which he has never seen before,and he is full of interest and hope in becoming our first agent in Tunisia.
A busy day passed quickly, at this time is Beijing time at two o 'clock in the morning,each family entered the sweet dreams and the pro will cheer for us,let us more bigger harvest in Turkey, for our company to become the most worthy valve suppliers continue to help!